This arrived in my virtual inbox at my Etsy shop – feedback left by the purchaser of my most recent custom pet portrait.  I'm touched and thrilled by her comments.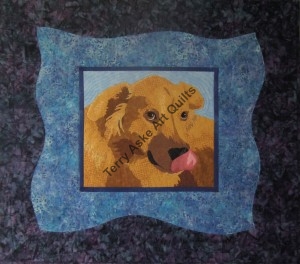 "This is an extraordinary work of art, the perfect tribute to the life of our beloved canine companion, Toby. Terry is a gifted artist and quilter, and she is also compassionate and empathetic. She wanted the quilt to be perfect for us, and it is. Terry has an uncanny knack–a genius–for capturing the life and spirit of a creature and beautifully rendering this vibrant life force in fabric. Our dog, Toby, is so alive on the quilt, I almost expect him to leap from the center to plop on my lap with a giant lick. The quilt is truly magical. "
And this arrived in my physical mailbox this afternoon.   A complimentary copy of the Winter 2015 issue of Art Quilting Studio magazine.  It will be on newsstands in a few days, and one of my self-portrait quilts is on pages 126 and 127.
Send to Kindle