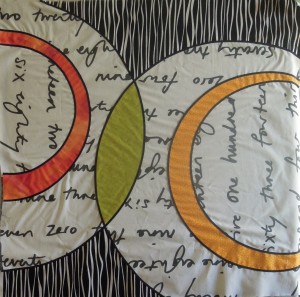 This quilt came together so quickly – and I love it!  As I said last week, this idea has been in my head since I first saw the IKEA fabric.  On the test piece I made last week, I wasn't entirely happy with my skinny inserts, because I was envisioning a much more precise graphic look.  (I'll use that technique for a more wonky, improve circle quilt.)  I recalled that I had some fusible 1/4″ bias tape left from this quilt – that was the look I wanted and it looked so good with the black and white fabrics.
My initial concept was big circles of the IKEA fabric with lots of other text fabrics – mostly black and white and gray with a few accents of bright colors.  As you can see, that idea morphed into IKEA text fabric with bright colors and black and white lines.  I'll save the multiple text idea for the future.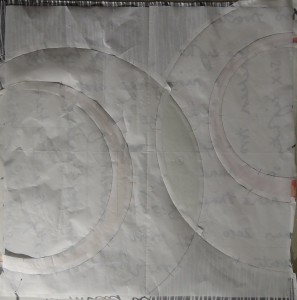 I drew a 6 x 6 inch layout, then multiplied all the measurements by 6, so the quilt would be 36 x 36 inches.  I taped two lengths of freezer paper together to get a 36 x 36 inch square.  I drew my circles on the dull side of the paper using this technique.  I found it impossible to stick the pin in my cutting mat, so I moved the cutting mat to the bedroom carpet, put the freezer paper on the mat, and pushed the pin into the carpet.  My only challenge was that I hadn't marked the center of each circle on my small drawing, so I had to experiment to find where to put the pin for each circle.
I sewed it together using the same technique I used for my Boston with Love flags.  It went together really quickly.
I'm linking up with these blogs for WiP Wednesday.  Click on the buttons below to see all the creative people participating and check out the projects they're working on.
Send to Kindle