Sometimes I really struggle to come up with a good title, especially for my abstract art quilts.  I'm often tempted to call them Circle 1, Circle 2, etc. but I love catchy, creative titles, so I spend a lot of time trying to come up with good ones.  I asked an online group of SAQA members how they come up with titles for their art, or if they think a title is even necessary.  
Most people thought titles were important, and there were a lot of great suggestions about how to generate ideas for titles including: asking friends, searching online, referring to a dictionary or thesaurus, using usual words or interesting phrases.  Most of these ideas are things I already do, but they spurred me to do more online research.
I found some great blog posts about titling art, including these ones:
I also found these websites which I've bookmarked for future reference:
This is the quilt that I currently need a title for.   There's no deep meaning or emotion involved with this quilt.  My inspiration was the relationship of straight and curved lines, and some fabrics in colors I thought would work well together.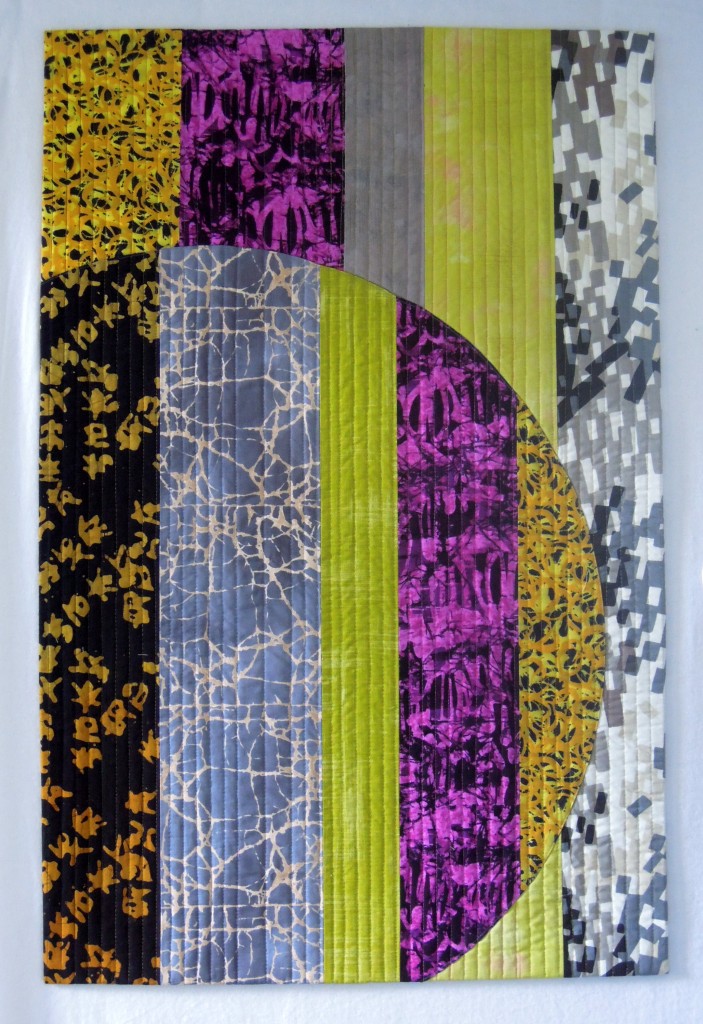 I think part of my frustration with naming this quilt is that I was quite pleased the name of my previous circle quilt 'Circular Thinking', and I felt the need to come up with an equally good title for this one.  I considered 'Circular Thinking 2′, but also 'Circle of Lines and Color', or 'Circle of Magenta and Mustard' (alliteration!).
I also asked readers of my blog and my Instagram followers for suggestions for this quilt, and was very impressed with all the ideas, including:  Missing Moon, Poolside, Reversal of Fortune, Through the Looking Glass, Porthole, Glimpse, Topsy Curvy, Eclipse and Eclipsed.  Many of these have given me ideas for future circle quilts!
I'm still mulling over what title I will give this quilt.   I have to decide soon, because I'm going to submit it to an art quilt show.
So how do you come up with titles for your quilts or other artwork?  Do you think a catchy title is important?  Do you have any tips or suggestions you'd like to share?
Thanks for stopping by.  Today, I'm linking up with these blogs – click on the links below, where you'll find many creative and inspirational projects.
Send to Kindle