Last fall, when I heard that Brenda Gael Smith was curating a new textile art exhibition, a matter of time, I decided to submit an entry.   Although my quilt was not one of the 32 selected, I really enjoyed the challenge, and I look forward to seeing the collection.  One of the conditions was that we could not publish our quilts prior to the selection process.  Now I can show you my entry – 'Star Trails'.
As you probably know, I'm thoroughly entranced with circles and all the various ways I can use them in quilts. So I looked for a way to interpret the concept of time with a circular design, and I stumbled across the concept of star trails – an amazing visual phenomena created with time-lapse photography.  A Google search revealed a wealth of images.
For this exhibition, all quilts had to be 40cm by 100cm (approximately 16 by 39 inches).  Given the vertical format, I decided to position the center of my circular star trails toward one side, and to put a treeline in the foreground, similar to what I did in 'Bad Moon Rising'.  I decided on colors ranging from very dark blue to light purple, as if the time-lapse photography session started at dusk.  Then I experimented with ways to make the star trails.  I zigzag stitched with hologram metallic thread and pale, pastel rayon threads.   These didn't look bright enough against the dark sky fabrics, so I tried stitching over thin white cord and ribbon.  Then I remembered my white ink pen – I drew the star trails on the sky fabric with white ink, then covered the ink with zigzag stitching.  That gave my star trails the brightness I was looking for – and made it easier to stitch in a smooth curve.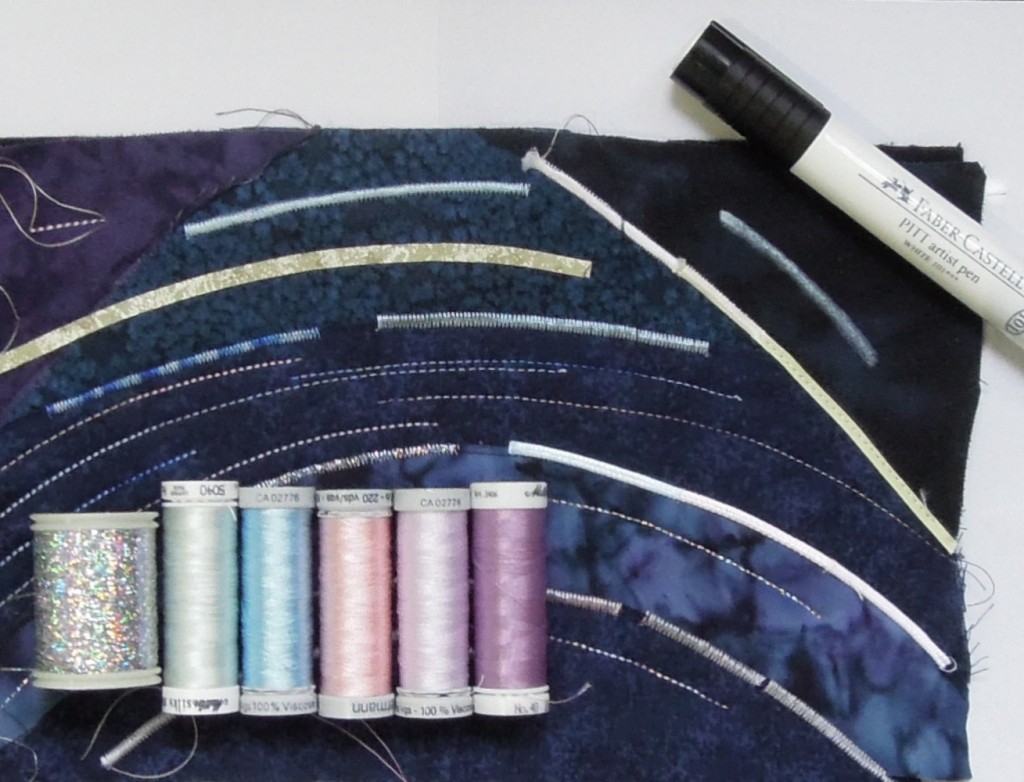 I drew my full-size design on a piece of freezer paper.  I cut the circular sky sections apart, and ironed them to the back of the sky fabrics.  I overlapped the seam allowances of the sky fabrics and from the back, straight stitched in the gap between the paper templates.  Then from the front, I trimmed each seam allowance very close to stitching.  (In the first image below, the sky pieces have been stitched together, but the paper is still pressed to the back causing those unsightly ridges.  And I'm making sure the treeline pattern piece will cover the places where I transitioned from a darker sky fabric to a lighter one – tricky, eh?)   When all the sky pieces were stitched together I removed the freezer paper and zigzag stitched over each seam.   In some places I used thread that matched the sky fabric, and in other places I used contrasting threads for the star trails.  Then I did additional zigzag stitching to create more star trails.  This was all done before I layered the quilt, so I wouldn't have to bury all the thread ends.
Then I layered the quilt.  I used black eco-felt instead of batting.  I quilted circular lines in each sky section with matching threads, and added some fainter star trails with a triple-stitch.  The last step was to fuse the foreground trees and quilt them.  I finished the quilt with my favorite facing method.
Even though my quilt wasn't accepted into the exhibition, I had a lot of fun learning about star trails, and figuring out how to interpret them with fabric and thread.  And I'm sure I will find a quilt show in the future where I can show my 'Star Trails' art quilt.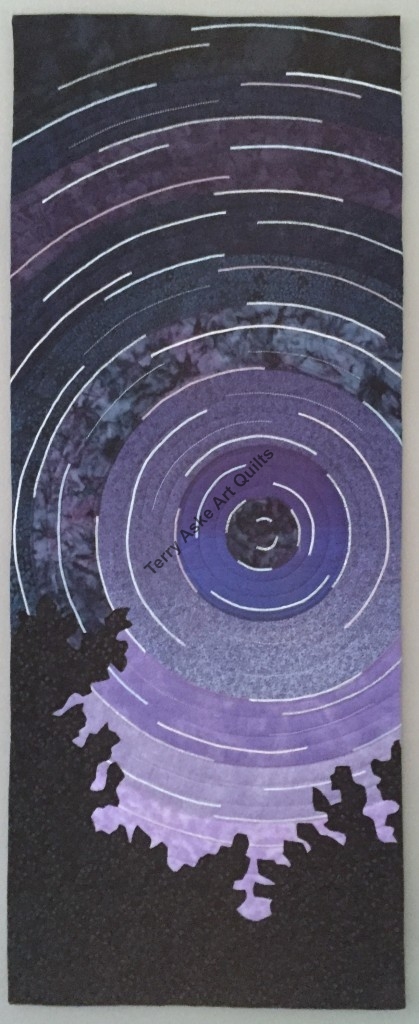 Thanks for stopping by.  Today, I'm linking up with these blogs – click on the links below, where you'll find many other creative projects to inspire you.
Send to Kindle