I really like this little quilt I made for the Vancouver MQG Mini Quilt Swap.   I didn't have a lot of time to enjoy it after I finished it, because that happened yesterday afternoon – just in time for the guild meeting last night!  I enjoyed making this, and may make another similar one for myself.  I made this quilt for my friend Janet of What Comes Next?  Her favorite colors are blues, aquas and teals, and I decided to go with various shades of teal in solids and patterns, with a few shots of contrasting colors.  I called it 'Mostly Teal'.
And, unbeknownst to me (because it was a secret swap), Janet was the one making a mini quilt for me!  I can't remember exactly what I said my favorites were – but Janet got it perfectly with black & white and lime green and flying geese.  And look at that fabulous machine stitching!  Janet titled this "Every Which Way But South".  I love it!
The reason I was working on my mini quilt at the last minute was because I spent three days last week in the beautiful city of Victoria BC.  I was invited by the Victoria Quilters' Guild to do a presentation on modern quilting.  I talked about the history of modern quilting, and showed them many of my modern quilts.
Now it's time for me to get back to the portrait of Kodiak.  I'm just about to fuse it all together and start thread-sketching.  I'll post about my progress in a couple of days.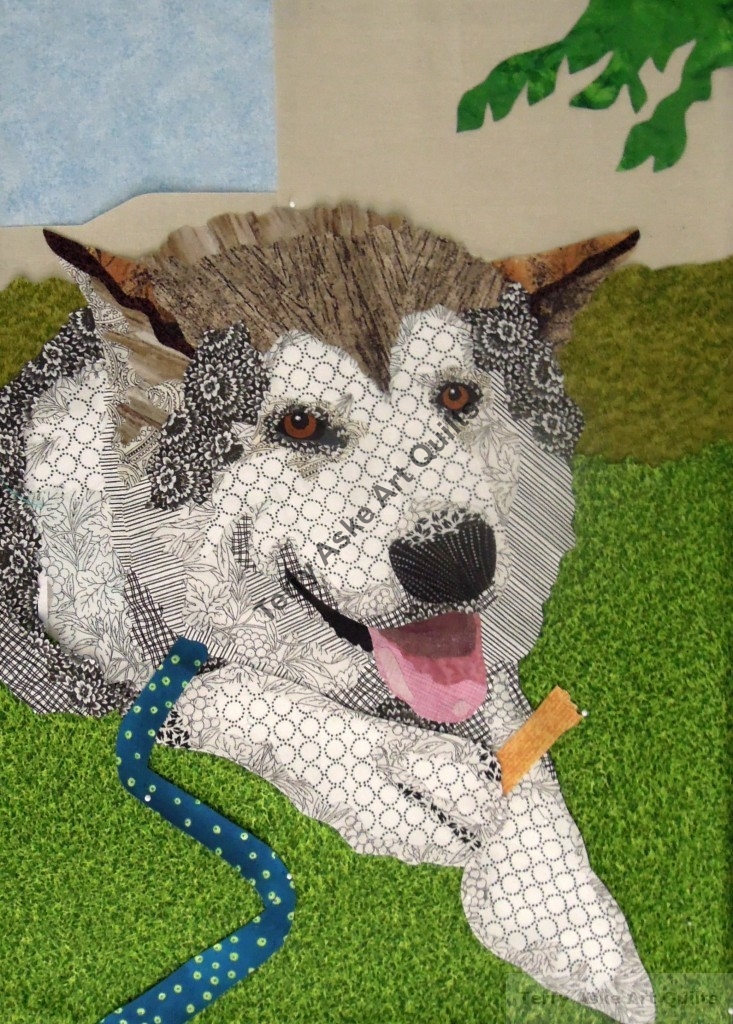 Thanks for stopping by.  Today, I'm linking up with these blogs – click on the links below, where you'll find many other creative projects.
Send to Kindle